Uzumaki Naruto and Kurama the Kyuubi

The JinchuurikiFirst Naruto Appearance: Ch. 1 / Ep. 1
First Kyuubi Appearance: Ch. 1 / Ep. 1
Hidden Village: Leaf
Rank: Genin
Bijuu: Kurama the Kyuubi also known as Kyuubi no Youko (Nine-Tailed Demon Fox)
Power: Mini-Kyuubi form ~ protective Kyuubi chakra taking fox form, gigantic chakra and power boost to Naruto
Drawbacks: Excessive use of Kyuubi destroys Naruto's body and makes him a mindless killing machine
Status: Active
Info: Yondaime Hokage imprisoned the Kyuubi within Naruto after it attacked Konoha. Like many Jinchuuriki, Naruto lead a lonely life. Over time though, he gained friends and left his life of despair behind. He has been trained by the Sannin Jiraiya to make full use of Jinchuuriki gifts.


The BijuuHistory and Myth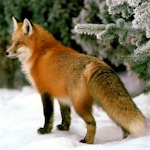 The Kyuubi is a kitsune or fox. In myth the fox was said to change shape and have long life and use magic. The number of tails the kitsune possesses is said to tie into their length of life, with one tail said to be gained for every 100 years of life. Their powers will also grow as they age. At 1,000 years and nine-tails, the fox attains near-deity like powers. The name "Kurama" (Nine Lama or Nine Dharma Teachers) comes from Yuu Yuu Hakushou, another manga series which inspired series creator Masashi Kishimoto.

Yondaime Hokage sacrificed his life to seal the Kyuubi within the baby Naruto. He was reported to have used the Shiki Fuujin technique to seal the Kyuubi within Naruto, then used the Hakke no Fuuin Shiki & Shishou Fuuin seal styles to keep the Kyuubi within Naruto. The seal created an internalized prison for the Kyuubi, with a barrier gate and seal holding him within. The seal was designed so the Kyuubi's chakra could exit the prison and enter Naruto, which Yondaime Hokage knew would help Naruto.
Jinchuuriki-Bijuu FormsUnleashed Bijuu Power Form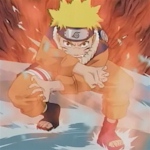 The first Kyuubi form revealed in the series, this form grants Naruto some measure of Kyuubi's chakra. This form typically emerges when Naruto becomes enraged. His whiskers turn more feral and his eyes turn red. His hair becomes bushy, his incisors grow longer and his fingernails grow sharp. In this form he is surrounded in the Kyuubi chakra and is able to move more quickly, use more chakra draining jutsu, heal his body faster and strike with more force.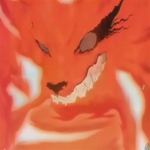 One-Tail Cloak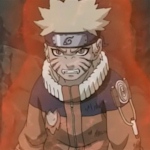 When Naruto fought Sasuke at the Valley of the End, he was desperate to get his friend to return to Konoha. The fight pushed Naruto past his limits. When the fight began to turn in Sasuke's favor, the Kyuubi granted Naruto even more power than before, causing the red chakra surrounding Naruto to boil and bubble and take on the shape of a fox with long ears and a tail. This chakra is not bound to Naruto's body, being able to move and extend in as striking limbs. Though Naruto remains conscious in this state, the chakra can seemingly react of its own will. In this state the chakra will also act as a defense against incoming attacks.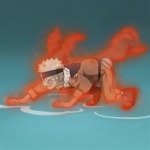 Two-Tail Cloak
When entering the two-tail state, Naruto becomes even more beast-like in appearance. His eyes grow larger and become outlined in a rough black. His incisor teeth also grow even larger than before. In a curious extension between the original Naruto and his shadow clones, when he entered this state his clones began to feel an intense burning within them, causing them to double over in pain.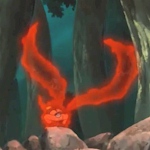 Three-Tail Cloak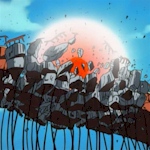 Naruto's three-tail form resembles that of two-tails. In this state Naruto was able to roar and extend chakra outwards to devastating result. This outwards destructive sphere of chakra was so intense so as to destroy surrounding matter and violently push back any incoming attack with but a simple roar.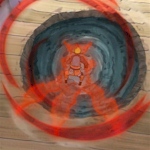 Four-Tail Cloak [Version 2]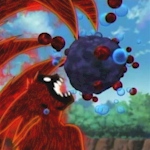 In this form Naruto loses all sense of himself, becoming a pure destructive beast with no regard for even his closest friends. In Naruto's internal Kyuubi prison, he crosses the protective barrier and falls into Kyuubi's grasp. Externally the Kyuubi chakra begins to melt off Naruto's very skin. His body changes to resemble the bushy whiskers on his face when enraged, and his hands form sharp claws. Ears and four tails extend from his body and he roars with a sharp maw of teeth. This form proves insanely destructive, able to roar, swipe and attack with hugely destructive results. And should any foes dare touch his form, they'll be burned by the intense heat. Unfortunately such prolonged usage of the Kyuubi tailed state is further weakening the seal Yondaime Hokage used to contain the bijuu.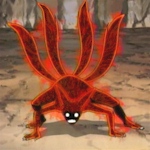 Six-Tail Cloak [Version 2]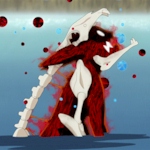 This six-tails state is a further expansion on the four-tailed form. Naruto first encases himself in the poisonous red chakra. After the feral form is generated, bones will grow to form a fox skeleton to surround Naruto.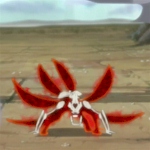 Eight-Tail Cloak [Version 2]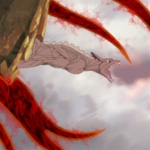 This eight-tails state is a further expansion on the six-tailed form. Within Naruto's internal Kyuubi prison, the seal on his stomach will twist, releasing more of Kyuubi's chakra. With the skeletal structure formed by going six-tails, muscles grow to surround the body. Because the seventh tail forms and ninth tail forms have not been seen, they possibly involve some further expanion on the "Kyuubi growth". Meaning that steps could possibly be the following: six - bones, seven - internal organs, eight - muscles, nine - skin.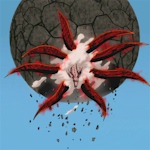 Full Control - Kyuubi Chakra Mode [Initial]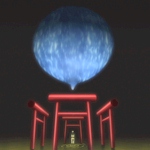 With the help of Killer Bee, Naruto was able to enter his mind and battle the Kyuubi for full control of the Bijuu's chakra. There he met his mother, who had implanted her chakra into Naruto when the Kyuubi was sealed to assist him during this training. Naruto managed to defeat the beast in a battle of wills and separate out its chakra for his own use when needed. When utilizing the chakra, he takes on the form of the Rikudou Sennin. In this form he is engulfed in yellow flames and the full Kyuubi seal lock appears on his body. He is granted a great increase in speed and power and has the ability to sense evil intent, something beyond the abilities of even sensor-type ninja. During the period when the Kyuubi was not on good terms with Naruto, when Naruto is in this mode, the beast will take a portion of his chakra in exchange.







Full Control - Kyuubi Chakra Mode [Uncaged Kyuubi]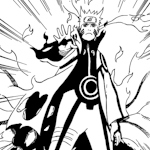 After Kurama and Naruto gained a true trusting partnership with each other, the cage holding Kurama was unlocked, freeing him for good. This allowed Naruto access to Kurama's full chakra, merging it with his own. This more advanced stage of the Kyuubi Chakra Mode is marked by a longer fiery chakra jacket and dark seal lines. The whiskers on his cheeks also solidify into dark bars. This new form allows Naruto to enter Full Bijuu Mode and utilize a perfected Bijuu Dama. Naruto's speed is greatly increased, allowing him to redirect incoming Bijuu Dama. Naruto can still utilize his normal jutsu, including Kage Bunshin and his Kyuubi chakra arms.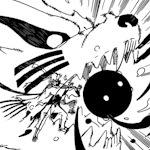 Full Beast - Incomplete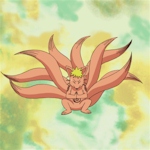 After achieving Kyuubi Chakra Mode, Naruto attempted to enter the full Bijuu mode with the Kyuubi. This is accomplished by first entering partial mode, then picturing the Bijuu itself to take on its full form. The Kyuubi was a stubborn participant in the matter, being unwilling to assist Naruto in the transformation, which resulted in Naruto only transforming into a miniature hybrid form. The Kyuubi's failure to help also caused the transformation to last but a few seconds after utilizing a lot of chakra.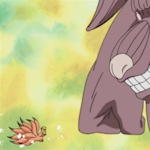 Full Beast - Bijuu Mode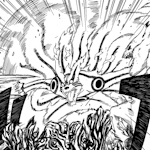 After Kurama and Naruto gained a true trusting partnership with each other, the cage holding Kurama was unlocked, freeing him for good. This allowed Naruto access to Kurama's full chakra, merging it with his own. This allowed Naruto to enter a more advanced stage of his Kyuubi Chakra Mode and to create a full chakra form of Kurama himself, marked by the same developed seal holding him within Naruto. This new form allows the duo to form a perfected Bijuu Dama. Unlike normal Kyuubi chakra, the full form chakra is not poisonous to the touch of others. Also because Naruto and Kurama do not yet have a perfect bond, they could only initially utilize the jutsu for five minutes. While within the chakra Kurama, Naruto can utilize his original jutsu, including Kage Bunshin, Sennin Mode and his Kyuubi chakra arms.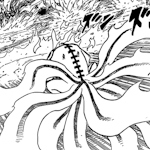 READ MORE: